Annual English Book Sale, Sue Style
Broadcast on:
10 April, 2018
Centrepoint's John Baker told us about the Annual English Book Sale at Basel West Library this Friday and Saturday, 13th and 14th April. If you are in the market for pre-loved books, this is the place to stock up! The sale is on from 10 am to 7 pm on April 13th, with a free apéro from 5 to 7 pm. On Saturday, April 14th, the book sale is on from 10 am to 5 pm. There's a bake sale on both days with donated goods from local cupcake and cookie shops...and, it's story time for all ages on Saturday morning at 11:00 with children's author Marcy Pusey. Books are only CHF 2 each, or 10 for CHF 15; DVDs are CHF 3 each, or 5 for CHF 10. This is a collaborative fundraising event benefitting Centrepoint, the Anglican Church Basel, the American Women's Club of Basel and the GGG.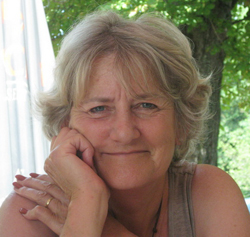 Our food guru Sue Style came in to talk Bärlauch, or wild garlic. It's in peak season right now, to be found in the woods all around the region, both in Switzerland and across the borders in Germany and France, in farmer's markets and increasingly in supermarkets - and grows anywhere cool and damp in the spring. Interesting name - "bear garlic" in both German and French - referring to the fact that (supposedly) bears love(d) it - though we're not sure how recently there have been bears in our parts... It's a big seasonal tradition in the Dreieckland, called ramps or ramsons in US. Spear-shaped leaves are used, not the bulb (unlike 'real' garlic). Soon it will burst into bloom (white starry flowers) and the forests will be perfumed (?) with wild garlic. Catch it now and for the next few weeks; after that, it completely disappears into the ground and you'll never know it was even there. Gardeners note: don't be tempted to plant in your garden as it's VERY invasive and spreads everywhere. Can be shredded and added raw to salads, or made into pesto, soup, sauces (great with lamb!), with pasta or risotto. Sue shared a recipe for a wonderful, green, garlicky dip.
Our music theme this week: the opening track on debut albums, Part 2 (Part 1 was here). All bands great and small had to start somewhere, and the first song on their first album sets out the stall and says: this is who we are! We played:
Guns N' Roses - Welcome To The Jungle
Erasure - Who Needs Love Like That
Maximo Park - Signal and Sign
The Prodigy - Jericho
Muse - Sunburn
Led Zeppelin - Good Times Bad Times
Yazoo - Don't Go
Franz Ferdinand - Jacqueline
GusGus - Gun (Live 1997)
Hurts - Silver Lining
Queen - Keep Yourself Alive