Judee Kisob & Tribal Traces; Suzi Lyon & Carlyle Christopherson Album Launch
Broadcast on:
3 October, 2022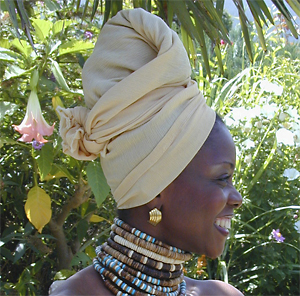 Designer Judee Kisob Frick joined us to talk about her Tribal Traces pop-up store on Gerbergässlein 10, which includes high-end home furniture and furnishings from or inspired by influences from around the African continent. Judee has a line of self-made furniture, furnishings, fashion and personal accessories called Afro Dizzy; she also sources goods from Africa to be able to offer the public a more varied assortment of wares that are socially responsible and good for the environment. Among the range on offer are not only new items, but also recycled, upcycled, re-upholstered vintage and antique pieces. Visit the store in the middle of Basel Tuesdays to Fridays from 11am to 6:30pm and Saturdays from 11am to 5pm. Listen to the interview here.
Suzi Lyon was in the studio to update us on what's happening at her RE: Cafe and Unverpackt on Neuweilerstrasse 2a in Allschwil. Australian musician Carlyle Christopherson will have an album launch and perform at the cafe from his brand-new album "Fast Forward (To Rewind)" in addition to a full-day of activities starting at 9am. Live music starts at 3:30pm with The Welsh Kates, and continues at 4pm with Carlyle. Listen to the interview here.
In honor of guest host Jake Dixon's surprise appearance on The English Show, Joel and Jake played music from their common heritage, New York:
Blondie - Heart Of Glass
Talking Heads - Burning Down The House
Beastie Boys - You Gotta Fight
Twisted Sister - We're Not Gonna Take It
Ramones - Blitzkrieg Bop
Chic - Good Times
...and previous English Show guest Carlyle Christopherson (from Australia) will be playing live at a launch party this upcoming Saturday at English Show alum Suzi Lyon's Re: Cafe Unverpackt. From his new album "Fast Forward (To Rewind)", we played "Here We Go".