Gadget Guru - Robot Vacuums
Broadcast on:
14 September, 2021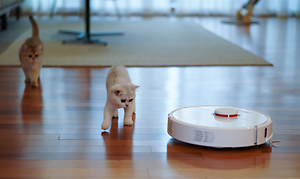 Kitties needn't be scared for their fur in this episode of the Gadget Guru on The English Show. Ian makes a connection between Doctor Who and robot vacuums as he ponders vacuums' future; will we get a hand or a claw? And then, on a different note, Ian says thank you for a job well done. Listen to the segment here.
Our music theme this week was all about "Rock Experiments". You might ask yourself what this musical theme means, so to help you along: "Rock Experiments" are any kind of contemporary rock bands with new twists on them, from classic rock 'n' roll with a modern take of the Reverend Horton Heat, or the guitar-focused shred-fests of Exotic Animal Petting Zoo...
Our tracks tonight were:
Bear Vs. Shark - "Catamaran"
The Reverend Horton Heat - "Galaxy 500"
Radiohead - "Jigsaw Falling Into Place"
Primus - "John The Fisherman"
Black MIDI - "Near DT MI"
Exotic Animal Petting Zoo - "Pharmakokinetic"
The Fall Of Troy - "F.C.P.R.E.M.I.X"