The English Show OG Jake Dixon has written "The History of Mosquitoes"
Broadcast on:
15 June, 2021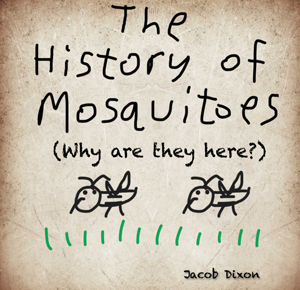 One of the original members of The English Show hosting crew, none other than Mr. Jake Dixon, joined us in the studio tonight. Jake is a New Yorker who has made Switzerland his home for over a decade. He is an English teacher and lives with his beautiful girlfriend and their adorable cat.
Jake has performed in theater productions for Semi-Circle and Upstart Entertainment, as well as providing color commentary for Swiss Wrestling Entertainment and Swiss Championship Wrestling.
Jake caught us up on his activities since going on extended hiatus from The English Show. Specifically, he has written no less than three children's books with all the spare time he's finding these days while not hosting the show. We talked about the not-so-historically-factual, but highly entertaining "The History Of Mosquitoes (Why Are They Here?)", a must-read for those interested in understanding why perhaps our most annoying insect ever exists. Jake also wrote the books "Helping The Bee" and "Cobra vs. Mongoose (how it began)".
And while we're on the subject of new books: if you're a metalhead like Jake, he'd like to give a shout-out to the book "Rime of the Angry Metalhead", written by his good friend Jason Luna.
Are you interested in a copy of "The History of Mosquitoes"? Well, we're having a raffle, and we'll pick one lucky person that responds in the comments in our Facebook raffle post in the coming weeks. Jake will autograph and send a lucky winner a free copy.
Our musical theme tonight was money, featuring songs on the subject:
ABBA - Money, Money, Money
Steve Miller Band - Take The Money And Run
Pink Floyd - Money
Steve Barrett - Money (That's What I Want)
Notorious B.I.G. - Gimme The Loot
The Beatles - You Never Give Me Your Money
Dire Straits - Money For Nothing