Basel Life Magazine Crowdfunding Campaign; Cochlea Duo Concert
Broadcast on:
1 June, 2021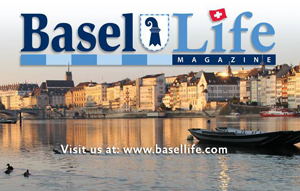 For the past 9 years, Basel Life Magazine has been Basel's go-to English-language resource for everything you need to know about life in Basel. But the pandemic has hit the cultural sector hard, and unfortunately the publication of Basel Life Magazine will have to end with the July/August issue. But the dedicated team of volunteers at Basel Life Magazine would like to like to continue to guide Basel's English-speaking community and are hoping to launch Basel Life Digital - a free online platform that will offer the same kind of information as the magazine in an attractive digital format. To be able to create Basel Life Digital and avoid shutting down entirely, they have launched a crowdfunding campaign that will run through June 28 and for which they need your support! Susanne Hiller and Christine Pesold joined us in the studio to give us the details. Listen to the interview here.
Founded in 2013, Cochlea Duo thrives on harpist Lindsay Buffington and flutist Chelsea Czuchra's combined interest in a broad spectrum of music, including original works and transcriptions for flute and harp, as well as a commitment to commissioning new works for this ensemble. Chelsea Czuchra came in to talk about the Duo's current New World / New Voices concert tour, where they will be playing works by composers Luzia von Wyl, Vera Kappeler, Ryan Molloy, Helen Grime, Michèle Rusconi and Toru Takemitsu. Their Basel concert will take place on June 11th, 2021, at 7:30 p.m. at the SAFE Unternehmen Mitte right in the heart of town. Please reserve tickets by e-mail: cochleaduo@gmail.com or call +41(0)78 890 53 15. Their Soundcloud page is here. Listen to the interview here.
Our music theme covered new electronica and synth pop as well as classical music. We played:
GusGus - The Rink
Chvrches - He Said She Said
Grasscut - Return Of The Sun
Manj - Heer
Ryan Molloy - Damselfly (excerpts)
Luzia von Wyl - Spartivento (excerpt)
Michèle Rusconi - Whims and Attitudes (excerpt)
Toru Takemitsu - Toward the Sea, The Night (excerpt)
Hannah Peel - Ecovocative
GusGus - Simple Tuesday