Semi-Circle, SheEO, Vitra Factory Sale, Gadget Guru - DVD Players
Broadcast on:
30 October, 2018
Semi-Circle president Mike Bray and director Diana Zuger came in to talk about the theatre group's current production "Friendships?" (yes, the question mark is included). Friendship spreads generously, but how far can it stretch before it snaps? Friendship can be strengthened in crisis or diluted by time. Forgotten friendships can be revived, whilst others remain uncertain. How could anyone absolutely trust a Neanderthal in a dating situation and how could one possibly befriend a robot? Find a few answers and lots of inspiration during Semi-Circle's evening of short and friendly (?) plays. Performances are on November 8, 9, 10, 15, 16 and 17 at Theater Arlecchino. Get your tickets here! Listen to the interview again here.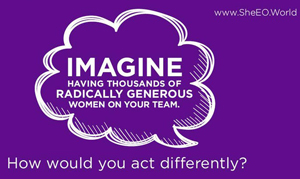 SheEO creates a new system of incentive and reward for women-led impact-led ventures. What if you could use your voice, vision, experience, network and financial resources to change the way business gets done? SheEO wants to put women's ideas to work for a more just, inclusive, and sustainable society. Join SheEO on Sunday, November 4th, in Zurich for the official SheEO Switzerland campaign kickoff. Vicki Saunders, SheEO founder and serial entrepreneur, is coming to Zurich to share how her radical experiment is already changing the way business gets done in Canada, the U.S., and New Zealand. Anne Murray and Liz Derks told us about SheEO and the upcoming event. Listen to the interview again here.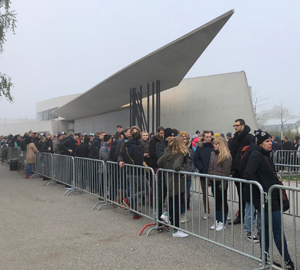 Among design lovers it is a well-known event: the yearly factory sale at Vitra in Weil am Rhein. Classics and new editions by Vitra were on sale at the Vitra Campus. People from all over Europe queued up to get that special chair, desk or bench with massive price reductions. Some design lovers even took their sleeping bags and spent the night there just to be sure that they would have their first choice of design furniture.
Our reporter Ingrid Koning took a look at the Vitra factory sale on October 20th and talked to various participants. Listen to the report again here.
This week, Ian the Gadget Guru looks at the imminent demise of the DVD player. What does that mean for all your physical media? Is it worth keeping? And for how long before it becomes a collectible? You might need a bit of patience, but one day that revival will come. Listen to the segment again here.
Our music theme this week: Halloween! We played:
Warren Zevon - Werewolves Of London
The Cramps - Surfin' Dead
Gorillaz - Dracula
Screamin' Jay Hawkins - I Put A Spell On You
My Chemical Romance - Helena
Ramones - Pet Cemetary
Siouxsie And The Banshees - Spellbound
The Cure - Lullaby
Nick Cave & The Bad Seeds - Red Right Hand
Skrillex - Scary Monsters And Nice Sprites