photo18 photographers Ketty Bertossi and Lucian Hunziker
Broadcast on:
2 January, 2018
The largest exhibition of Swiss photography, photo18 showcases the work of more than 150 Swiss and some international photographers. On display is press, advertising and fine art photography, laid out over the 7'000 square metres of exhibition space at the Halle 622 in Zurich Oerlikon. It's an extremely popular show - around 27'000 visitors saw last year's exhibit. This year it's from January 12th to 16th.
We talked to two photographers from Basel whose work is being shown at photo18.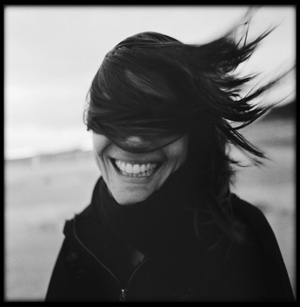 Ketty Bertossi studied photography at the Centre d'enseignement professionel de Vevey. She is a freelance photographer who specialises in portraiture, among other things. For her photographs at the photo18, she travelled around Europe for three months with a pinhole camera that she built herself. The refugees she saw in Paris stuck in her mind, and she took pictures that capture the stark reality of life on the streets of Paris. Listen to the interview here.
Photo of Ketty by Joel Sames.
Lucian Hunziker regularly photographs individuals and fashion for magazines and newspapers and works on commercial and artistic projects. He told us about the portraits he's done of Roger Federer and Jacques Herzog, among others, and which photographs he is exhibiting at photo18. Lucian has published a book called «Basel in Portraits» , where he explores the history of photography through a series of fifty-nine portraits of prominent individuals from Basel. Listen to the interview here.
Our music theme was all about New Year's! We played:
Act As If - New Year's Day (U2 Cover)
The Go Find - New Year
Camera Obscura - New Year's Resolution
Otis Redding and Carla Thomas - New Year's Resolution
Les Bicyclettes de Belsize - Unhappy New Year
The Orioles - What Are You Doing New Year's Eve
Mellow Fellow & Floor Cry - New Year's Eve
The Walkmen - New Years Eve
Hurts - All I Want For Christmas Is New Year's Day
Tori Amos - Our New Year
O'Jays - Christmas Ain't Christmas, New Years Ain't New Years Without The One You Love
Sugarland - Maybe Baby (New Year's Day)