Zero Waste Basel, The Messiah Theatre Performance, Wortschatz
Broadcast on:
12 December, 2017
Zero Waste Basel is a group with a mission. They believe it is possible to greatly reduce the total amount of waste we prodcue as a society by following the principles of: Rethink, Reduce, Re-use, Repair and Recycle. The Zero Waste Movement is happening around the globe! And on this episode, our "Queen of Green" Carrie Aikman spoke to Carole Schanté from Zero Waste Basel about managable steps to reduce your waste - perhaps even to zero! Click here for a list of good spots to shop at in Switzerland. For tips, go to Bea Johnson's blog. For even more tips, go to Trash Is For Tossers. Basel's Department for Environment and Energy keeps you updated on what's going on right here in town. To contact Carole or Moni (Basel ambassadors) at Zero Waste Basel, write to basel@zerowasteswitzerland.ch. Listen to the interview again here.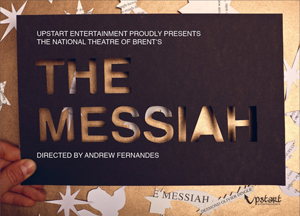 Cast member Jorian Pawlowsky came in to talk about Upstart Entertainment's production of "The Messiah". It's a rollicking romp in the Barakuba Bar with drinks, mulled wine and Christmas spirit. This year there will be an Indian menu prepared by the Padre personally - dhal, veg, meat and rice with a drink for just CHF 19.- on top of the ticket. Those who book a meal get to enter earlier (7 pm) and first choice of seating. Performances are on December 14th, 15th and 16th at 8 p.m. Get your tickets (CHF 31.- and 21.-) at Ticketino!
It's the holidays, a perfect time to "up" your German language politeness game! Agatha wrote in to ask about the dreaded situation all expats face: no language skillz while riding public transport and needing to give up your seat or exiting a crowded tram or bus. Have no fear, Christoph Kirn is back with A#1, on-point German phrases that will melt the heart of the toughest customers! Take note, practice, and never feel stressed again in this all-too-common occurance in Basel life. Listen to the segment again here.
Our music theme this week: grunge from the 1990s. We played:
Nirvana - Lithium
Meat Puppets - Backwater
Stone Temple Pilots - Plush
No Rain - Blind Melon
Bush - Machinehead
Alice In Chains - Them Bones
Veruca Salt - All Hail Me
Silverchair - Tomorrow
Hole - Doll Parts
The Gits - Bob (Cousin O.)
Pearl Jam - Jeremy