Gay Beggars Theatre Group, Rob Stuart, Startup Weekend
Broadcast on:
31 October, 2017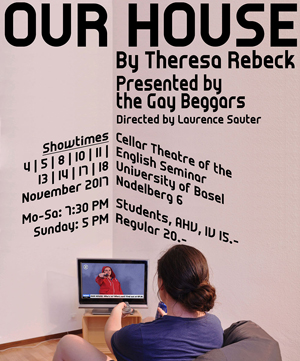 Assistant director Livia Grossenbacher from the university's Gay Beggars Theatre Group stopped by to tell us about their new production. The play is "Our House" by Theresa Rebeck (2009), who is an American screenwriter and playwright. The show has adult content, so parent discretion is advised. Performance dates are on 4, 5, 8, 10, 11, 13, 14, 17, 18 November 2017 at the Cellar Theatre of the English Seminar on Nadelberg 6. Tickets are CHF 20.- / 15.- reduced price and you can reserve them here!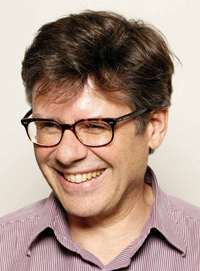 Our cinema guru Rob Stuart came in to talk film releases! There's Blade Runner 2049, directed by Denis Villeneuve starring Ryan Gosling and Harrison Ford; An Inconvenient Truth: Truth to Power, featuring former vice president Al Gore; and action film Kingsmen: The Golden Circle, directed by Matthew Vaughn and starring Colin Firth and Taron Egerton. For the kids you have Cars 3: Evolution and Bigfoot Junior. For more details on these films and more, check out Rob's cinema page!
And we had Tom Koch from Startup Weekend Basel in the studio to tell us about the Startup event coming up in Basel on November 24-26. The event is open to everyone with good ideas and will be held at LaunchLabs in Gungeldingerfeld Basel. The weekend begins on Friday night at 18:30 with an Apéro and networking and ends on Sunday with a finished project. Socialize your ideas for feedback, the input of experienced professionals and potential investors. The cost of the weekend is 75 CHF and includes participation, food, materials, etc.
It's Halloween! So our music theme was all about monsters, zombies, werewolves, witches, vampires and creepy-crawlies. We played:
Michael Jackson - Thriller
Metric - Monster Hospital
The Who - Boris The Spider
The Black Keys - Howlin' For You
The Misfits - Halloween
Rockwell - Somebody's Watching Me
Echo & The Bunnymen - People Are Strange
Kings of Leon - Closer
Bobby Pickett - Monster Mash
The Cure - Lullaby
Marilyn Manson - This Is Halloween