Drum Instructor Marc Rebetez, Language Coach Christoph Kirn
Broadcast on:
3 October, 2017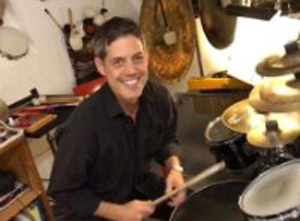 Our first guest today was drum instructor Marc Rebetez. Marc studied classical percussion in Basel at the Musik Akademie Basel, and drum set at the Musician's Institute in Hollywood, USA. He now teaches percussion (from drums to vibrophones, timpany, and mallets) to drummers of all ages, and especially kids. Catch him performing with the Orchester Liestal on 11 & 12 November, with the Orchestra of the University of Basel on December 7 and January 7, and jamming the first Monday of every month at the AlterZoll Jazz Jam Session. You can get a hold of Marc at +41 (0) 79 485 18 07.
Language Coach Christoph Kirn from Wortschatz joined us to talk about the German language coaching he offers. Translated literally, "Wortschatz" ("vocabulary") means "word treasure", which reflects Christoph's philosophy of enriching your personal fortune through language, and of course, enriching your command of the language you are studying. The focus is on analysing
each person's individual situation and specific needs and having German lessons whenever and wherever your schedule allows - you won't be tied to fixed course times. Instead, if for example you have an important presentation coming up that would benefit from your presenting in German, Christoph will use role-play, video and a variety of tools to help you prepare. Listen to the interview again here.
Our music theme was all about British Indie Rock and the Class of 2005. We played:
Maxïmo Park - Apply Some Pressure
Franz Ferdinand - Take Me Out
Arctic Monkeys - When The Sun Goes Down
The Kooks - Sofa Song
The Libertines - Don't Look Back Into The Sun
Sons & Daughters - Dance In Me
Editors - Bullets
Kaiser Chiefs - Ruby
Klaxons - Golden Skans
The Rakes - All Too Human
The Long Blondes - Once And Never Again
Bloc Party - The Prayer