The Haze Store, Gadget Guru - RepairCafe
Broadcast on:
26 September, 2017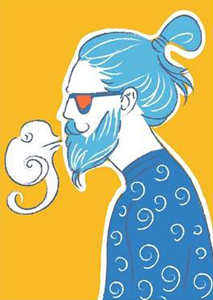 Our first guest tonight was Hanen Haddad from The Haze Store. Hanen started the business here in Baselstadt two months ago, after leaving her corporate job. Specializing in premium e-liquids for vaporizers or e-
cigarettes, Hanen sources only the best, certified ingredients, blends them here in Basel and distributes them through her website and the Tempel Store. Currently, The Haze Store offers Apple, Strawberry, Tabacco, Herbs flavors and soon, PassionFruit and Blueberry.
Ian Ellery, The Gadget Guru, joined us today to discuss repairs, and specifically how to source them for your vintage electronics, or just plain broken electronic gear. He suggested finding your local Repair Cafe, where you can not only get something fixed, but also learn how you might do it yourself. If repairs are your thing, joining this global trend of DIY repair cafes is easy enough here in Basel: You can go to Rep-Statt @ Markthalle. or there will be a RepairCafe coming up on October 14th from 10 am to 1 pm in Lörrach at Halle 9 on Gewerbestrasse 9. Listen to Ian's segment again here.
Our music theme this week....Paradise! We hope you enjoy the songs!
Guns 'n Roses - Paradise City
Massive Attack - Paradise Circus
White Hex - Paradise
John Prine - Paradise
Coolio - Gangsta's Paradise
Simple Plan - Summer Paradise
City and Colour - Paradise
Paradise Lost - Fader
Damian Marley Jr - Pimpa's Paradise