Quartet Gerhard, Loop Tanz II
Broadcast on:
12 September, 2017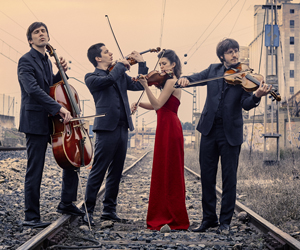 Spain's Quartet Gerhard is a story of friendship. Lluís Castán Cochs (violin), Judit Bardolet Vilaró (violin), Miquel Jordà Saún (viola) and Jesús Miralles Roger (cello) have known each other since their childhoods and have always shared a passion for playing music and learning. The Quartet Gerhard will be playing pieces by Webern and Brahms in the Altstadtserenaden Series tomorrow Wednesday, 13 September, at 6:15 pm in the Kartäuserkirche on Theodorskirchplatz 7. Lluís and Miquel told us about their connection to Basel, why they chose to play Webern and Brahms, and what to expect at the concert. Don't miss it! And watch out for their new album, which will be released at the end of September, with pieces by Kurtag, Schumann and Berg. Listen to the interview again here.
Loop Tanz II is another great evening out, this time with dance. It's three choreographers, three pieces, one theme: relationships. Performances are at the neuestheater.ch in Dornach on September 14, 15 and 16th at 7:30 pm. Choreographers Debora Maiques Marin, Sol Bilbao Lucuix und Javier Rodríguez Cobos came into the studio to tell us about their individual choreographies. Don't miss this, either! Listen to the interview again here.
As all of our guests today were from Spain, our music theme was, quite logically, bands from Spain! We played:
Delorean - Real Love
Triangulo De Amor Bizarro - De La Monarquía A La Criptocracia
Auryn - Make My Day
Bigott - She Is My Man
Hinds - Chili Town
Manel - Sabotage
The Zombie Kids - Face
Juan Zelada - Breakfast in Spitalfields
Anímic - Gem
Nudozurdo - Ha Sido Divertido
Aardvark Asteroid - Broken