The British Cheese Centre, Kevin Richmond's Dance Round-Up
Broadcast on:
29 August, 2017
He's been called a cross between the James Bond and Hugh Grant of cheese (somewhere a lady just fainted). Michael Jones of The British Cheese Centre in Zurich stopped by the studio to talk cheese! At the centre's shop in the Zurich Markthalle im Viadukt you will find much more than just cheese: freshly baked scones (and clotted cream!), jams and bitter orange marmalades, chutneys and crackers, bagels, organic fudge from Cornwall, British beer, English sparkling wine and port wine (the perfect partner for Stilton). Michael is not just a shopkeeper, however; he's also maintaining an active blog in support of a book he'll be publishing next year (2018). Check it out to see testimonials, galleries, events, and of course his blog about his cheese experiences. He's also the founder of The International - the first craft beer bar in Zurich. Stop by for a glass of one of his special 50-100 beers from his rotating menu. Next time you visit his shop, online or in person, mention The English Show (use promo code theenglishshow in the webshop) to get a special 10th anniversary complimentary wedge of cheese. Listen to the interview again here.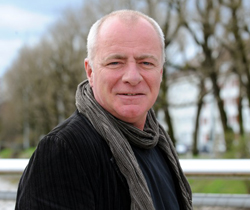 Our Arts Correspondent Kevin Richmond gave a round-up of dance events happening in and around Basel in the coming months. At the Musical Theatre Basel, for example, you've got the Grand Moscow Classical Ballet as well as Dirty Dancing later in the year; "Performing Choreographies" at the Kaserne Basel; at the Roxy Birsfelden, the "Mixed Pickles" programme; and at Theater Basel, pieces by Hofesh Shechter und Bryan Aryas. Listen to the segment again for all this and more!
Our music theme this week was new tracks released in the last few months. We played:
Bloody Knees - Not Done
Imagine Dragons - Believer
Bad Nerves - Radio Punk
Sweet Spirit - Pamela
Pickwick - Turncoat
Tired Lion - Fresh
The Killers - The Man
Cloud Control - Rainbow City
St. Vincent - New York
Lorde - SuperCut
Alvvays - In Undertow
The Horrors - Machine