Gay Beggars - The People Upstairs, Centrepoint Reflections Photography Exhibit
Broadcast on:
11 April, 2017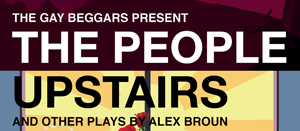 The Gay Beggars are an independent and non-professional theatre company specialised in the production of plays written in English. Founded by students of the Department of English at the University of Basel in the early 40s, the Gay Beggars have managed to keep up the long-standing tradition of staging at least one play a year. Their upcoming production is "The People Upstairs" - an evening of short plays by Alex Broun. Note that some of the plays contain adult themes (overt sexual references, innuendo), so might not be suitable for children. Directors Sydney Geissler and Laurence Santer came in to tell us all about the production! You can catch performances on 14th / 18th / 21st / 24th / 26th / 29th April 2017 (all shows at 8 pm) at the Cellar Theatre of the English Seminar on Nadelberg 6. And meet playwright Alex Broun at his workshop on April 23! Contact the Gay Beggars for more information.
Our next guest was photographer Stéphane Vuille from Centrepoint. In January 2017, the Centrepoint Photography Group was one year old, and Stéphane thought that it was time for a first exhibition. "Reflections" presents a series of 17 photographs that not only illustrate the ability of light to reflect on polished surfaces but also show how an image may cause us to reflect on an issue or topic. With images omnipresent in all aspects of our lives, it may be worth reflecting on the age-old debate about photography: is it showing reality or only a representation of it? The exhibition runs until the 12th of May during the opening hours of Centrepoint at Im Lohnhof 8.
Music theme, you ask? Why yes - and this week it's the best of the cheesiest of power ballads, sung by people with big hair and soft-focus music videos. Cue lighters waving in the air. We played:
Foreigner - I Want To Know What Love Is
Whitesnake - Here I Go Again
Heart - Alone
Journey - Don't Stop Believin'
Jennifer Rush - Power of Love
Bryan Adams - Heaven
Belinda Carlisle - Heaven Is a Place on Earth
Starship - Nothing's Gonna Stop Us Now
Twisted Sister - The Price
Bonnie Tyler - Total Eclipse of the Heart