The Synod, Deadly Sins Dance Performance, Gadget Guru - Supreme Court Tech
Broadcast on:
28 March, 2017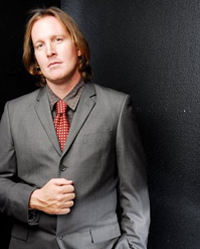 Chris Morton is the keyboard player and lyricist for prog rock band The Synod, based in London and Basel. The band have released new songs on Jango. We heard two tracks: Sinister Ministers and Continuum. Chris came into the studio to talk about prog rock, the music business, and getting a live band together. The Synod will be playing shows in the UK in summer. Listen to the interview again here.
Basel-based dance company Dancers For the World (DFW) will perform "Deadly Sins", adapted from "Dangerous Liaisons", on Sunday 2 April at 7 p.m. at the Elisabethenkirche. The piece is choreographed by Bejart dancer and choreographer Catherine Habasque, with renowned countertenor Thomas Lichtenecker, cellist Beatriz Blanco and other international artists - a baroque-themed evening in a spectacular setting. Thomas, who was in the studio this evening together with Catherine, has performed at La Scala, The Berlin Staatsoper and the Zurich Opernhaus. This very special performance will give you a unique opportunity to see world-class artists performing while moving throughout the audience! Don't miss it - it's for a great charity that brings movement and arts to impoverished regions throughout the world. Listen to the interview again here.
This week Ian the Gadget Guru takes a look at a tech legal issue before the US Supreme Court that could affect the Swiss francs in your pocket. Listen to the segment again here.
Our music theme this week: prog rock! Yes, that genre characterised by long meandering solos, noodling guitars, and literary lyrics. But fear not, we've chosen songs that are less than ten minutes long - and that have topped the charts, no less. We've also included the titans of the genre, of course. We played:
Marillion - Kayleigh
The Synod - Sinister Ministers
The Synod - Continuum
Yes - Roundabout
Deep Thought - Waiting For Darkness
Genesis - I Know What I Like (In Your Wardrobe)
Rush - Spirit Of The Radio
Devin Townsend Project - Bend It Like Bender
IQ - Through The Corridors
Pink Floyd - Have A Cigar