Layla Claire, Best Sights To See - Fondation Beyeler
Broadcast on:
4 November, 2014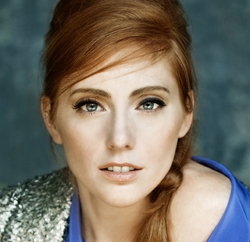 Canadian soprano Layla Claire is in Zurich at the moment, starring in a production of Benjamin Britten's Turn of the Screw, which is sung in English. Layla Claire is a graduate of the New York Metropolitan Opera's Young Artist Program. The music of Mozart is the centerpiece of her repertoire and she has been hailed in the operas of Mozart in both the Americas and Europe. Now tackling Britten's 20th century opera, Layla talked to Anna just before the premiere at the Zurich Opera House. There are 7 performances coming up - plenty of time time to head to Zurich for this wonderful production. Listen to the interview again here.
Our Basel tour guide Madeleine Wamister told us all about one of the BEST SIGHTS TO SEE in Basel: The Fondation Beyeler in Riehen. The museum is a perennial favorite of The English Show, featuring world class artists' exhibitions and collections as well as hosting a Jazz Apero the last Friday of every month inside the gallery.
In keeping with the Halloween Spirit, our musical theme this week was 'SPOOKY' and we played tunes that kept the goosebumps coming:
Dusty Springfield - Spooky
Michael Jackson - Thriller
Screaming Jay Hawkins - I Put A Spell on You
Deep Purple - Haunted
Skrillex - Scary Monsters and Nice Sprites
St. Vincent - Psychopath
GhostfaceKilla - Alex (Stolen Script)
Of Monsters and Men - Little Talks
Radiohead - Creep
Hallelujah - Friendly Visit From Outer Space
Biohazard + Onyx - Judgement Night