Rival Sons in Zurich - 13 February 2019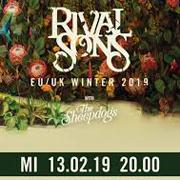 Rock and Roll was the name of the game at the Volkshaus in Zürich, where West Coast rockers Rival Sons and their Canadian support act The Sheepdogs provided a double bill of diverse blues and hard rock, hearkening back to an era when Rickenbackers and Gibson Les Pauls were amplified with soul and open road riffs dominated the original head-banging music scene.
The Sheepdogs
Ranging from Creedence Clearwater Revival to Cream in stylistic influence, Ewan Currie's soulful vocals interwove flawlessly with virtuoso blues guitar-work from the acclaimed Jimmy Bowskill, solidifying the retro-styled Saskatoon band's saloon rock as an energetic and impressive opening to the evening's performances. Focusing on material from their 2018 album Changing Colours, the Zombies-esque Cool Down was a subtle high point of the set. The Sheepdogs didn't shy away from showing off their instrumental prowess, oftentimes expanding the album tracks into crowd-pleasing jams with no small abundance of explosive guitar solos and sprawling organ synthesiser noodling in the best way possible. Shamus, the other Currie brother, proved to be a multitalent to reckon with, presenting his "mean trombone" with ease on the other cool-as-ice highlight track Ewan's Blues; Ewan himself channeling Robert Plant while fulfilling keyboard duties with passion and ease.
Rival Sons
With Rival Sons' feral roots stemming from Long Beach, California, there was no doubting the roar of ocean waves with their riptide opening track Back In The Woods off their latest album, named for the aforementioned Feral Roots. Sporting a darker raw edge, the new material went down a treat with the Zürich crowd, eager to soak in Jay Buchanan's raw and endlessly powerful vocals and Scott Holiday's flawless heavy-hitting guitartistry.
Barely fifteen minutes into their set, a technical issue with Dave Beste's bass guitar became a blessing in disguise for the audience as they were treated to an extended jam session between Holiday, Mike Miley on drums, and Todd Ögren on the keyboard, creating an atmosphere akin to an early Doors or Steppenwolf gig at the Whiskey a Go Go.
Upon Beste and Buchanan's return to the stage, the scale was upped once again with a beastly highlight from the new album in the form of Too Bad. Featuring an almost metal-infused hook from Holiday, the scathing lyrics and vocals from Buchanan saw him take on the role of a jaded lover flipping the musical bird to his insignificant other. Holiday's space age silver Gibson Firebird took the spotlight on recent popular tracks such as Electric Man and Open My Eyes, the latter most embodying the band's Led Zeppelin influence, particularly in Miley's phased percussion.
From the rock-and-roll-Radiohead of Face of Light (from 2011's Pressure & Time) and the lighter-waving emotional ballad Jordan, to the uplifting anthemic soul of Shooting Stars and the swaggering Keep On Swinging in the energising encore, Rival Sons proved that it takes more than just heavy riffs to make good rock and roll.
Jay Buchanan's masterful showmanship, performing the miracle of getting a Swiss audience to practically out-decibel the band itself with their cheers, and the support of his stellar band, imbued their music with true soul and added new meaning to R&R. The raw energy that Rival Sons brought to the Volkshaus was reflected in the passion of the crowd, with Buchanan's closing remarks pointing out that "tonight you paid for rock and roll" rather than sitting at home watching Netflix or playing Xbox (though he added that reading a book is still a good activity).
Buchanan and his band play the kind of music to listen to while speeding down a dusty Nevada road in a Ford Mustang, with their mellower tracks being for when the car breaks down and you have to wander along the road trying to hitch a ride.
– Miles Prinzen