Gurtenfestival 2019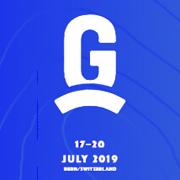 Looking for epic views, thousands of people singing in a field and the best frozen yoghurt this side of the Alps? Then look no further than Bern's Gurtenfestival. Situated on a hill on the outskirts of Switzerland's capital, it's one of the loveliest festivals in the country. No wonder The English Show has been coming here for years.
The line-ups have had their ups and downs, but one of the best things about this festival is its dedication to Swiss bands. This year's booking team also made sure that many more female artists were represented on the festival's three stages.
So what did the 2019 edition deliver? Four days of sunshine; many familiar faces and interesting conversations; and of course some excellent music.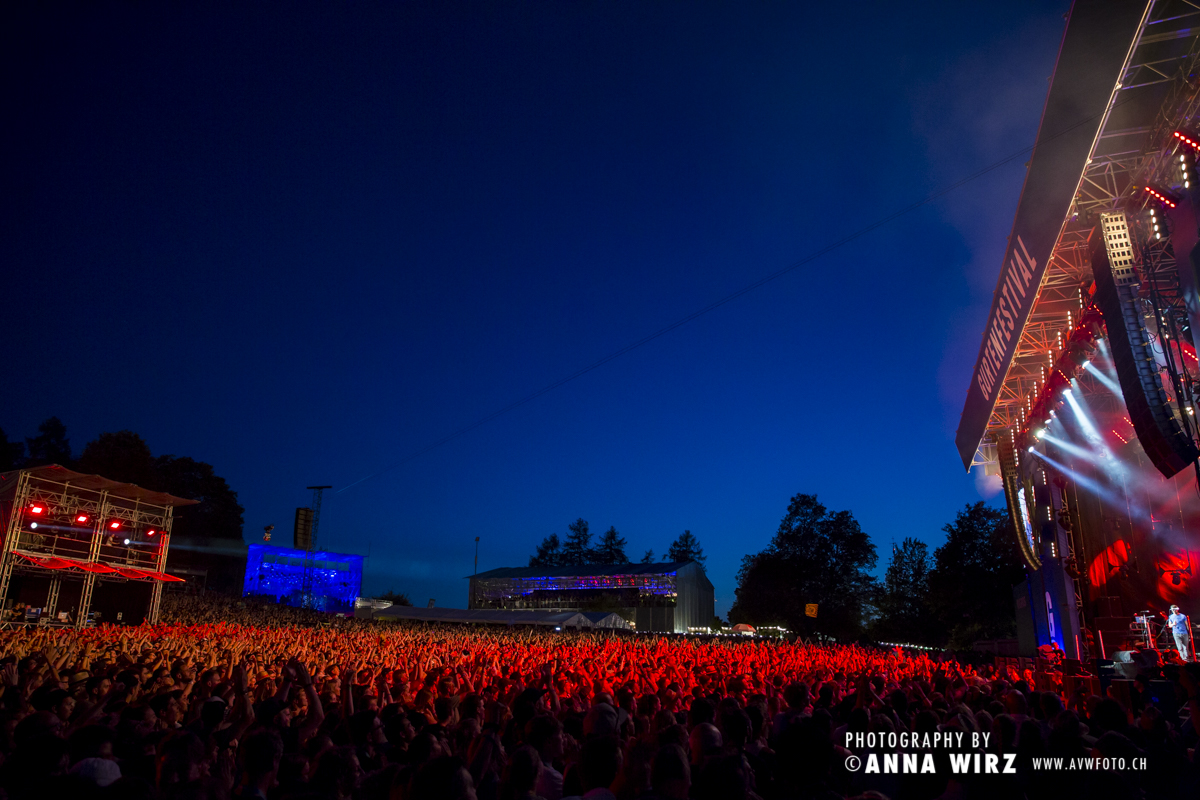 Wednesday
Switzerland's Thirty-Thr33 and Belgium's Coely kicked off the festival with indie rock and soul-infused rap, respectively. The Sherlocks from Sheffield played a great set full of swagger; and German producer and DJ Monolink transcended the one-man-behind-a-desk limitations by grabing a guitar and microphone to add layers to his sound.
Headliners Twenty One Pilots elicited mixed reactions. On the one hand, you had the fans who waited in the sun all day to see their heroes from the front row; the excited screams that greeted the duo increased my tinnitus levels by at least 4%. On the other hand, casual listeners were somewhat baffled by Twenty One Pilots's face masks and stage set (including a burning car). Apparently there's a story behind it all - whole dissertations have been written about it. Best to google it. It was a slightly too-slick show, but there's no denying that the duo have some very catchy tunes.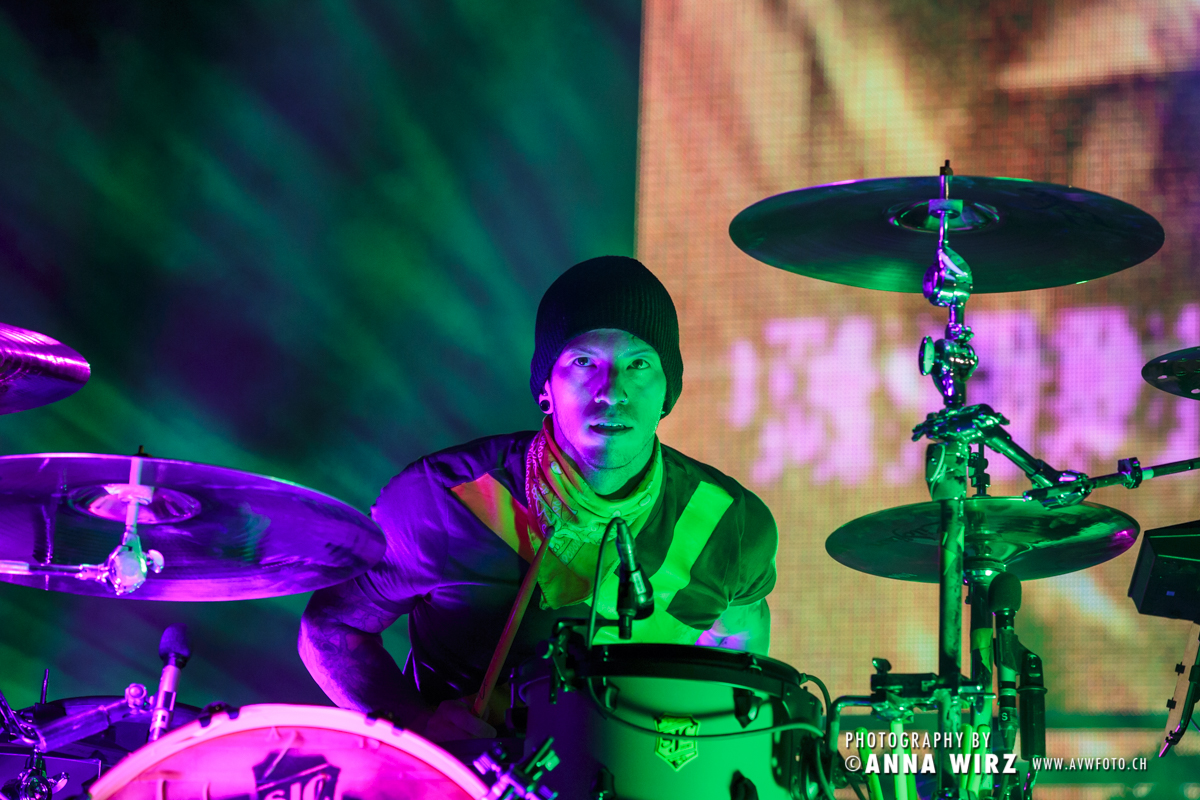 Props to the all the backstage crews, incidentally: lugging every band's equipment, stage sets (burning cars included) and screens up and down the Gurten and getting everything ready in time requires logistics that boggle the mind.
Photos of Thirty-Thr33, Coely, The Sherlocks, Monolink, Anna Rossinelli and Twenty One Pilots are right here.
Thursday
Opening the main stage on a sunny day in mid-afternoon is a tough job: most festival-goers are still asleep, those that are awake are hung over, and all of them want to sit in the shade rather than stand in the boiling heat at the barrier. Soul and pop artist Iris Gold knocked it out of the park with her vocals, though, and managed to get the crowd up and dancing. Top marks for her great style, too.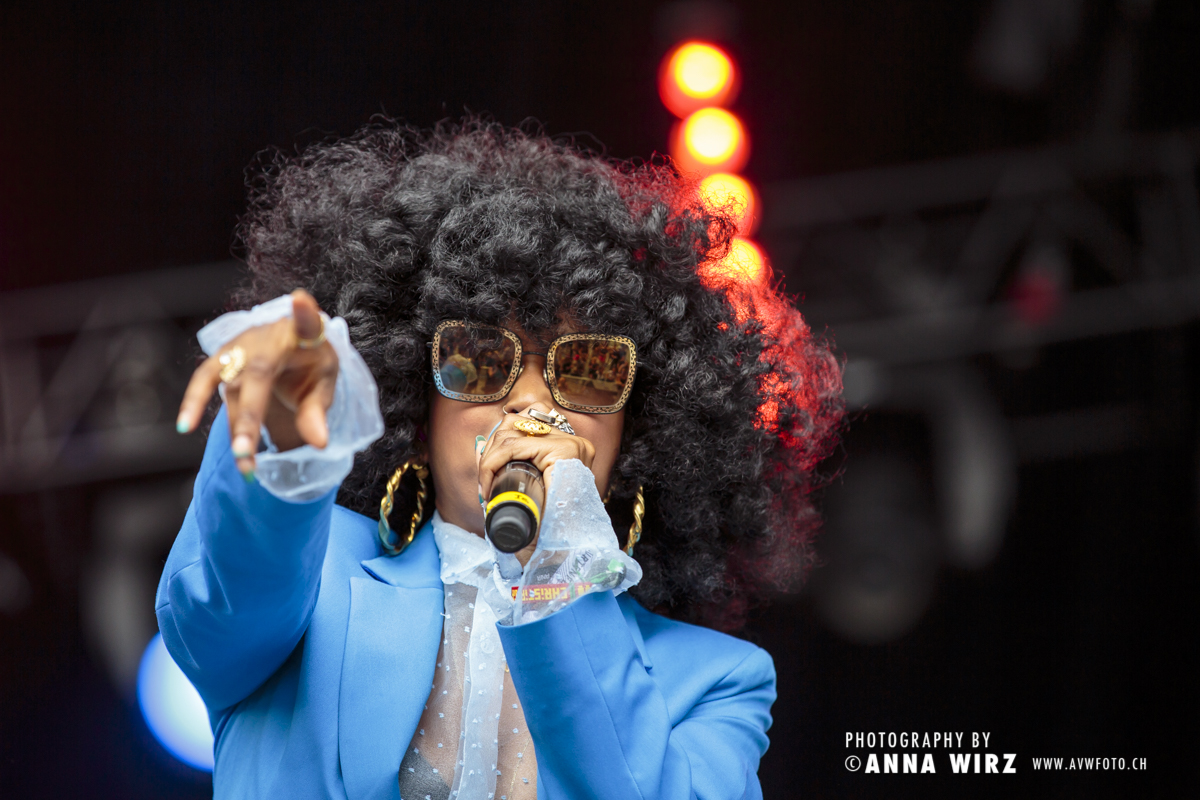 Over on the second stage, Swiss band Velvet Two Stripes were my discovery of the day: if you like down and dirty blues rock with gritty vocals and a riot grrrl attitude, then this is the band for you. Very much recommended.
Later in the day, Appenzell's Marius Bear boasted a splendidly gravelly voice, and Tash Sultana showed off her multi-instrumentalist chops.
Catalan star Rosalía had her fans chanting her name long before she appeared on stage, and when she did appear, it was with a stunning display of choreography that mixed flameno and street dance. With her music drawing equally from Spanish tradition and modern pop, Rosalía is set to go far. A very impressive talent.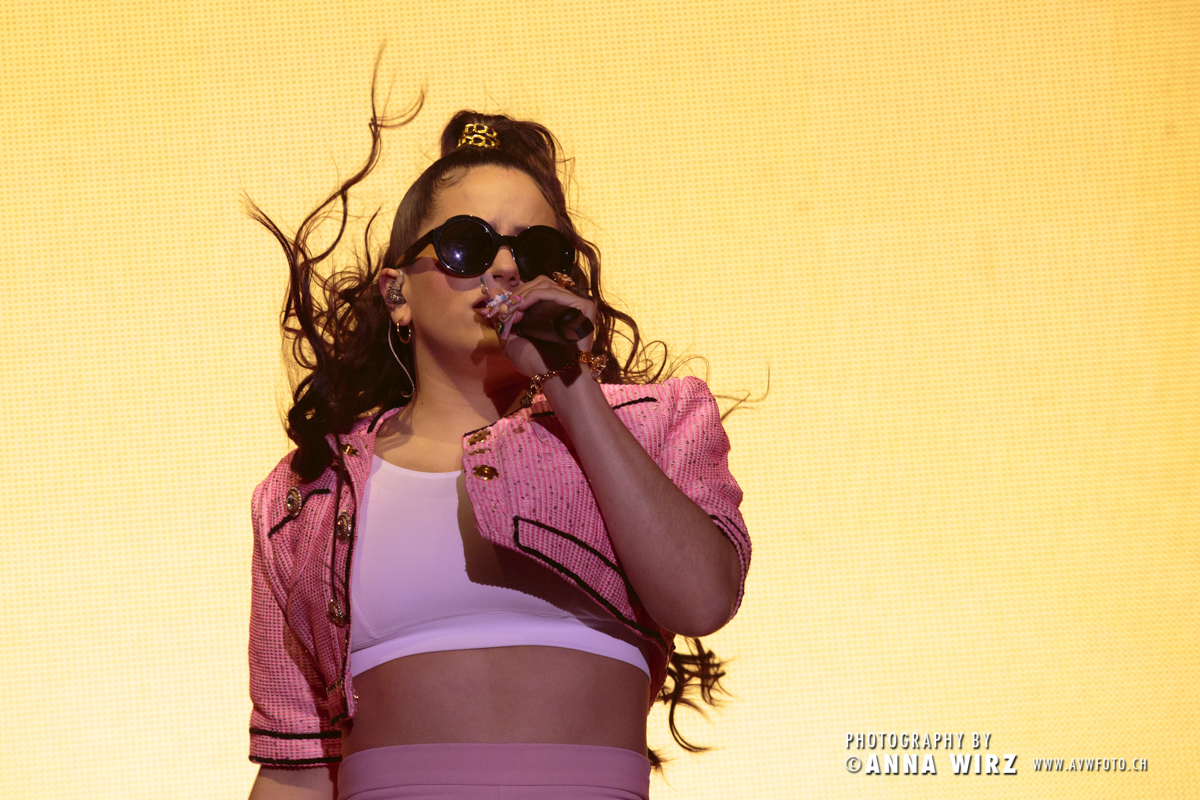 Click here for photos of Iris Gold, Velvet Two Stripes, Marius Bear, Tash Sultana and Rosalía.
Friday
Yet another sunny day, yet another tough job for the opening act - but Belgium's Baloji brought high-energy rap and funk to the stage and woke up the sleepy afternoon crowd. Swiss artists Sophie Hunger and Steiner & Madlaina were gentle delights later in the day.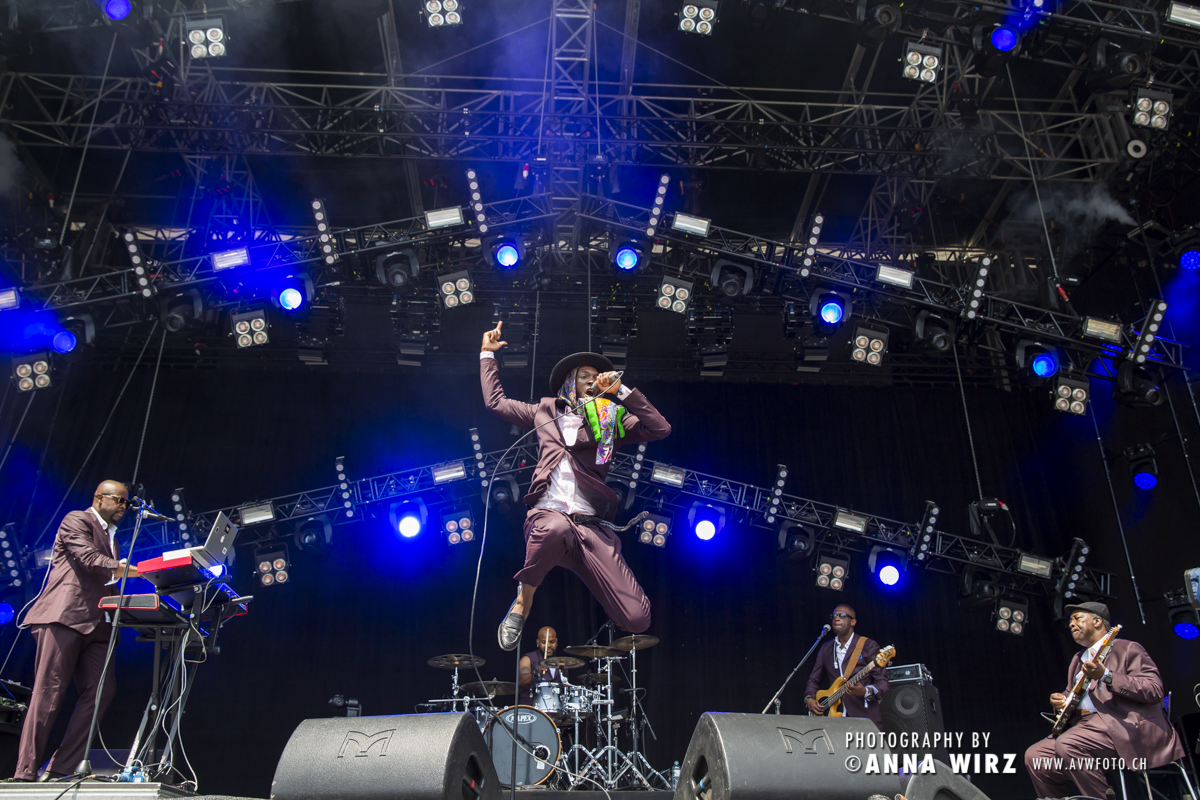 Bern headliner Patent Ochsner was Friday's highlight, drawing 20'000 people to the main stage, many of whom had come up the hill just for them. Kids, parents, grandparents - everyone was there. Patent Ochsner have been around since 1990 and are to Bern what The Beatles are to Liverpool and Oasis to Manchester: a beloved and vital part of the city's DNA. This was their 8th time at the Gurten, with previous concerts of theirs going down in history.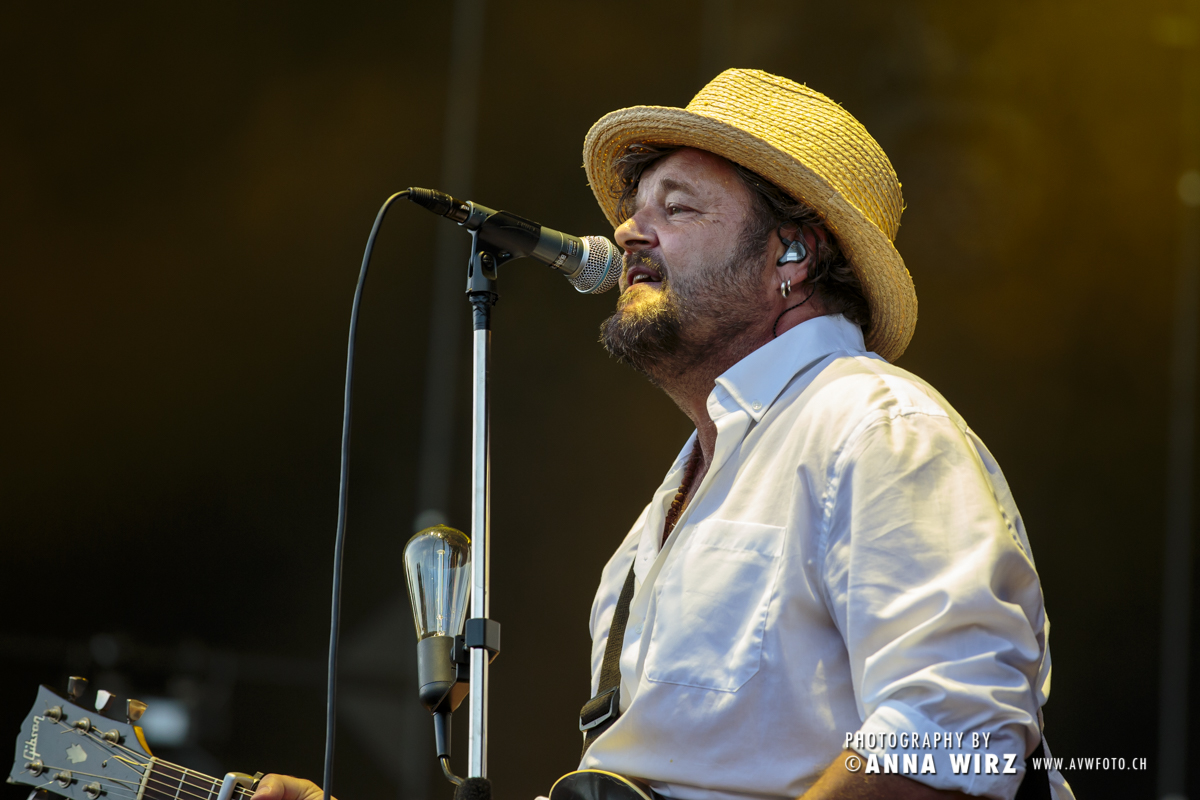 Frontman Büne Huber said in an interview this year that he always feels sick with nerves before a Gurten show because expectations are so high. He needn't have worried. The weather was perfect, the Bern locals knew all the lyrics, there was hugging and swaying, and when twenty-thousand people sang along to "W. Nuss vo Bümpliz" and "Scharlachrot", two of the band's biggest hits, there wasn't a dry eye in the house. What a magical atmosphere.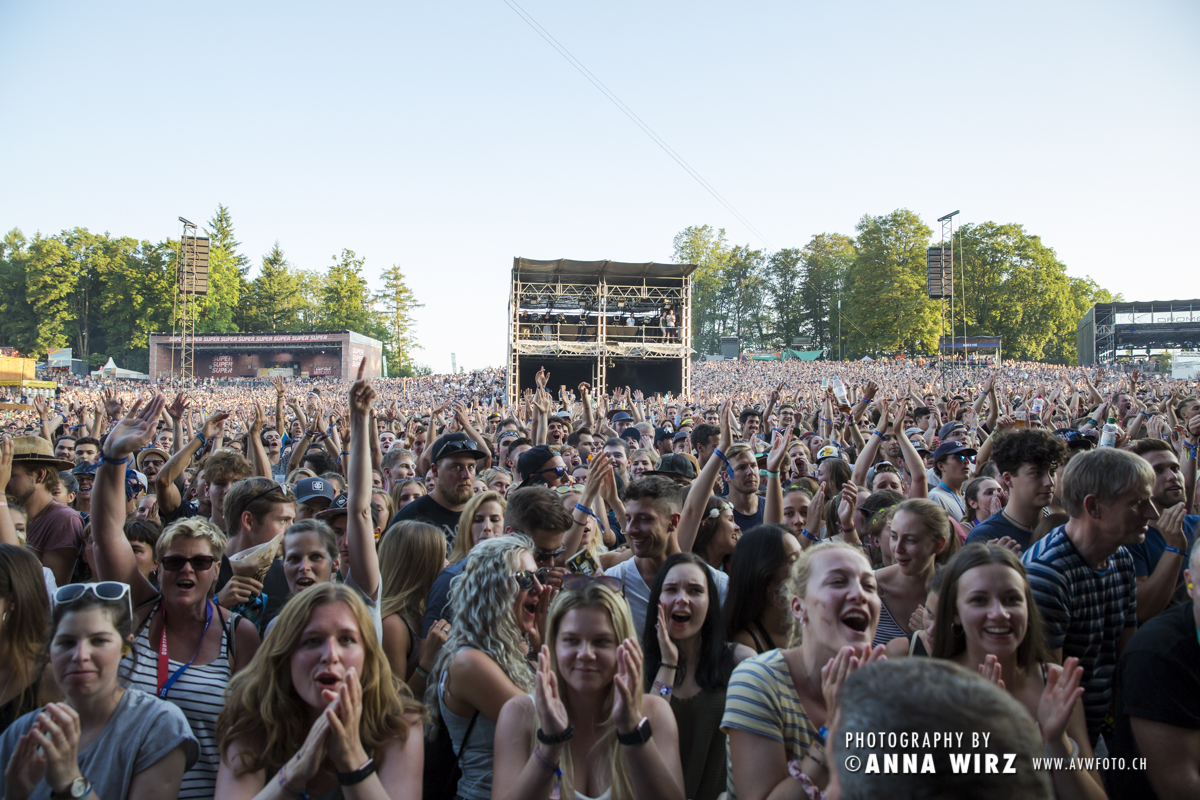 The Fugees icon Ms. Lauryn Hill would have had a tough job topping that at the best of times. This wasn't the best of times, however, as she seemed plagued by sound problems right from the start. She soldiered through, but you could feel the annoyance coming off her, making the concert less than enjoyable for the audience as well. A real pity.
Photos of Baloji, Sophie Hunger, Steiner & Madlaina, Patent Ochsner, DJ Reborn and Ms. Lauryn Hill are here.
Saturday
The last day of the festival, and two of my favourite bands were on the bill: Editors and Rival Sons. But first, Swiss band Rooftop Sailors gave the crowd a much-needed shot of rock adrenaline - the second blues rock discovery at the festival after Velvet Two Stripes. More of these kinds of bands, please!
Rooftop Sailors showed undeniable similarities to Californians Rival Sons, who swaggered onto the main stage and demolished it with a healthy dose of no-nonsense rock and roll. They added a touch of rootsy Americana with songs from their new album "Feral Roots", making for a dynamic and differentiated set. Jay Buchanan's raw, impassioned vocals were, as always, a thing of beauty.
Hometown favourites Lo & Leduc - the next generation of Bern headliners - drew almost as big a crowd as Patent Ochsner the day before. They brought along their whole band, brass section and all, and fired out salvos of reggae and rap, with the audience singing along to every word.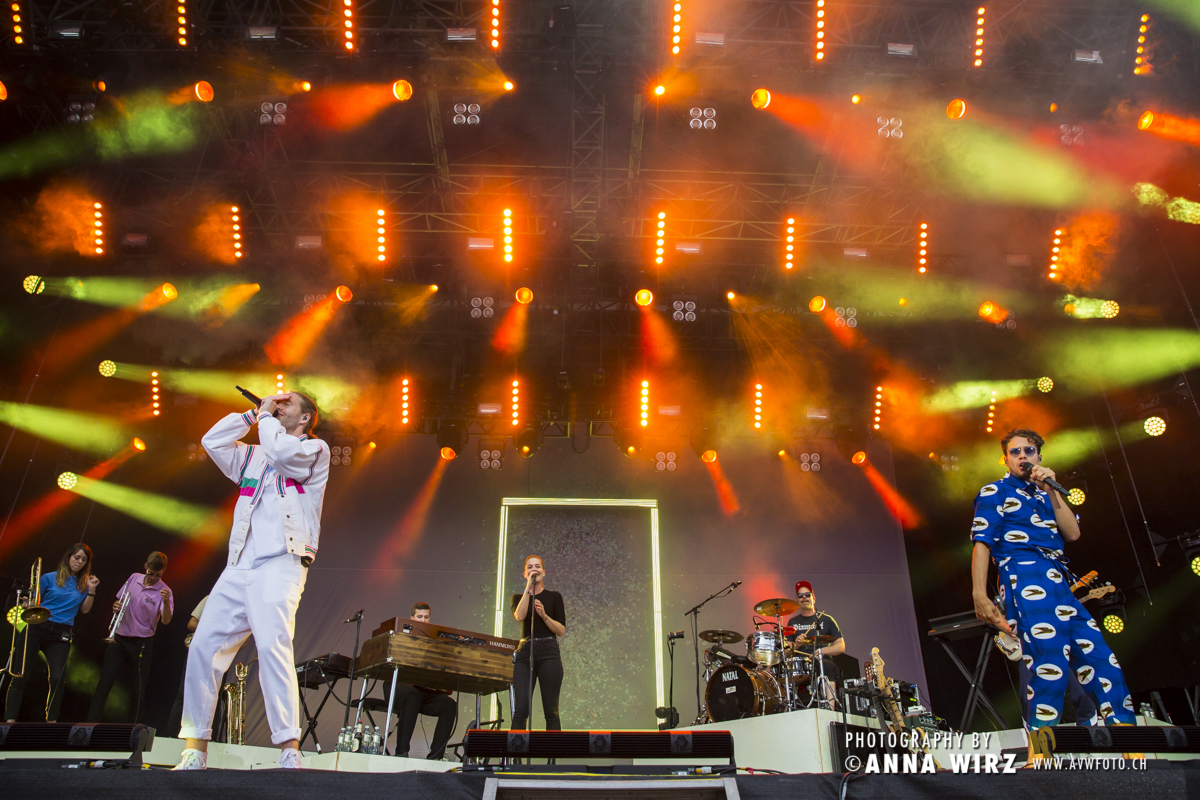 The grand finale came courtesy of Editors, who let loose with retina-scorching strobes and earsplitting bass, casually dispensing with two of their biggest bangers right at the beginning - "Violence" and "Papillon". Don't they know setlist etiquette 101, that you start gently and build up from there? If they were trying to send fans into an immediate moshpit frenzy, they certainly succeeded. It was hit after hit after hit. New song "Barricades" was one of the very few calmer moments. They finished with even newer song "Frankenstein", which turned out to be a dazzling closer.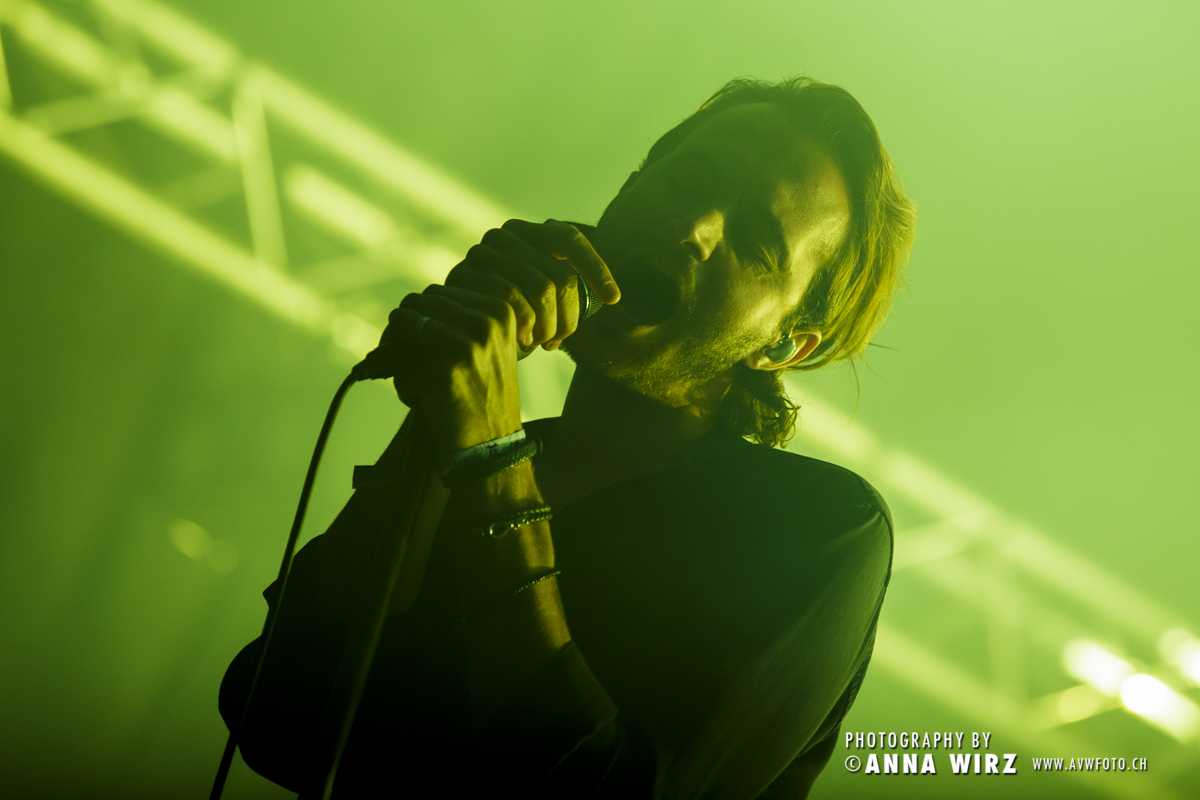 An outstanding end to an intense and rewarding four days at the Gurtenfestival 2019.
Click here for photos of Rooftop Sailors, Rival Sons, Lo & Leduc and Editors.
- Anna Wirz
Here's The English Show's interview with Rival Sons singer Jay Buchanan.
Here's The English Show's interview with Editors bassist Russell Leetch.