Brad Paisley at the Baloise Session - 15 October 2019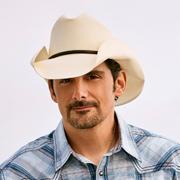 Cowboy hats and cowboy boots - that's the first thing you noticed walking into the Baloise Session on October 15th, 2019. Switzerland's country music fans had gathered to see one of the genre's biggest stars, Brad Paisley.
Since his debut album "Who Needs Pictures" in 1999, Paisley has sold over 11 million records, won multiple awards, and worked with a Who's Who of country music. This concert was his first time performing in Switzerland.
Ward Thomas
Support act Ward Thomas set the tone with their mix of country and pop. Twins Elizabeth and Catherine Ward Thomas hail from Hampshire in England and have been dubbed "Britain's first country stars".
Their exquisite harmonies rang out bright and clear on lovely ballads such as "Breathe In" and "This Too Will Pass", with the audience quiet as a mouse - a far cry and a welcome relief from the usual inane chatter one has to endure at most concerts.
"I Believe In You" marked Ward Thomas's first up-tempo number half an hour into their set, while closer "Carry You Home" provided a rousing finish.
Brad Paisley
Brad Paisley and his excellent six-piece band stepped on stage to enthusiastic applause, with the star on fine form all evening. The country music tropes women, trucks and whiskey were all present and correct, as evidenced by lyrics such as "And she's everything I ever wanted" and "She finally drank her pain away a little at a time".
But there was a welcome self-awareness as well: "This Is Country Music" was all about deconstructing the genre, while "Alcohol" injected humour into the tropes.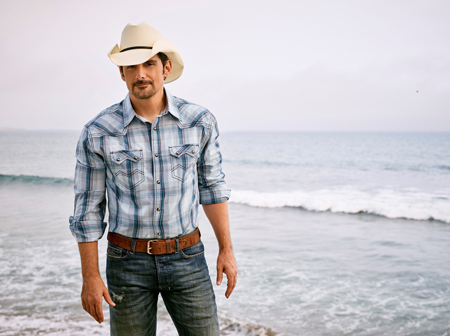 Paisley wasn't above making fun of himself, either, playing up the "ignorant American" angle, admiring the fact that four languages are spoken in Switzerland, adding: "me and the band barely speak one language".
He mocked celebrity culture in the aptly named "Celebrity" and went meta when he grabbed a couple of phones from the audience crowded round the stage, taking selfies and posting them to the owners' Instagram pages. The Baloise Session's barrier-less set-up allowed for a lot of interaction between Paisley and his fans, with him going the whole hog when he handed one of his guitars to a young boy as a present.
Ah yes, those guitars: Paisley kept his tech very busy, changing guitars like pop stars change costumes. He is a gifted guitarist and played not only country music solos, but added rock, bluegrass and even jazz into the mix. His setlist reflected the different aspects of his musical output, alternately turning the venue into a honky-tonk bar or a rock arena.
Showcasing his vocal range in songs like "The World", he hit falsetto notes and flipped his voice in country music yodels.
Paisley's acoustic interlude towards the end of the concert was the most moving part of the evening, allowing his musicianship to shine. He covered John Denver's classic "Take Me Home, Country Roads", which scored big with the audience; and "Whiskey Lullaby", sung in beautiful harmony with supporting act Ward Thomas, was the highlight of the night.
"So this is the land of chocolate", Paisley had commented with a grin at the start of the evening. Yes, it is - but on October 15th, 2019, Switzerland was also the land of country music.
- Anna Wirz
Photography by Jeff Lipsky and Damien Fry