Semi-Circle Presents "Friendships" at the Theatre Arlecchino
"Friendship in a variety of times and places, relationships and circumstances" As Michael Bray, president of Semi-Circle and one of the actors on the stage for this performance, describes this variety of short plays, shown throughout the evening.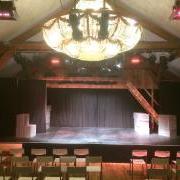 Firstly, lets talk about the Theatre Arlecchino itself. Located very close to the tram and bus stops and a stones throw away from the conference, and show centre, St. Jakobs Park. Upon entrance to the Theatre Arlecchino there is a nice little foyer, where one can hang their coat and proceed to the open seating area, with adjoining bar for refreshments . Upstairs is a small, but well set out staging area and seating for the audience, with an impressive chandelier to illuminate and set the ambiance. Once settled in, I had the pleasure to watch the dress rehearsals for the show starting this upcoming Thursday. See dates
here
The opening scene immediately grabs ones attention by the setting, costumes and amusing characters in the play called "Carbon Dating" , written by Chloe Hannah and directed by John Hyland. "Over the Top" by Geoff Parker and directed by Diana Zuger is acted out by two talented actors, Cameron Gough and David Cox and without giving all away, should make you consider perception and situation. There is a surprise twist about this "camaraderie" and a considerate story that, lets just, say it got a bit of bang to it!
A.I. Guy, by Jonathan Edgington, directed and acted in by Georgina Rotter, shows her fabulous acting skills alongside Saurabh Sinha and Jennifer Newman. This teases us with the idea of what future relationships might look like when the world of A.I. becomes a reality, and just how simple or chaotic the perfect ideal might actually turn out.
It took me a moment to access where I had heard such similar conversations, before bursting out with laughter! "Four Yorkshirewomen in Basel", is the perfect mashup of things your elders say and a the1948, TV show, "At Last The 1948 Show" (Pre Monty Python) sketch "The Four Yorkshiremen". Delivered with the usual British dry humour, Joy Scherrer, Susan Aeschbach, Elisabeth Shaw and Zuzana Cox, toast their way through "You Were Lucky" comedic memoirs.
"M is for Moon Among Other Things" delves into the normalcy of long term relationships where two people can converse and not really listen, yet survive in an ignorant harmony? Directed by Georgina Rotter and starring Billy Gilbert and Michael Bray, this play was created by Sir Tom Stoppard, a Czech born British playwright and scriptwriter.
The grand finale, and by far, the most captivating play in the set, stars Zuzana Cox and Elisabeth Shaw. "Playing with Daisy" is beautifully set and directed by David Cox, has one immediately attentive to the strange body language and subconscious settings that unfold with the well twisted plot. The playwright Eleanor Fossey, does an outstanding job keeping the characters intertwined and intriguing, and plays out as well as any top notch thriller. I look forward to keeping a look out for this talented playwright and author and her upcoming one act plays! In All, The setting, acting, directing, and play choices made good work of an evening at the theatre and a hearty reccomendation with two thumbs up comes from The English Show's reporter Mary Collins. To find out more about the this theatre group, and to book tickets, click on Semi-Circle link
here